Luxury fragrance from just 2p per hour
50% off first month with VIP50
The ultimate subsription box
Join our VIP Club
A box of unique wax melt bars each month with huge membership perks. The affordable monthly treat for wax melt lovers
> Shop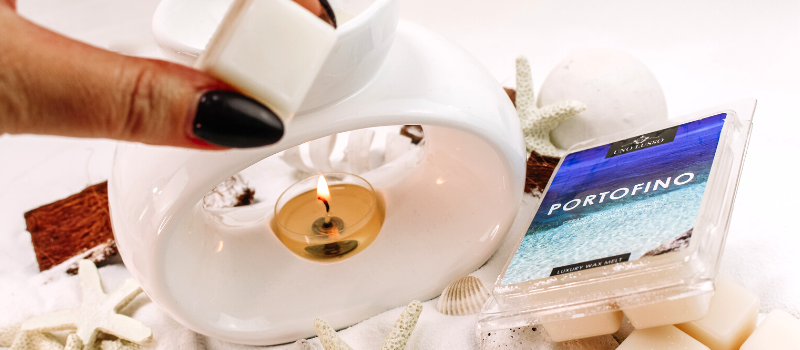 New to wax melts?
Everything you need to know about wax melts, how to use them and how ours perform vs alternatives
> Find out more
WHICH WAX MELTS ARE THE BEST?
Good question! Let's start with what makes a great wax melt.
When most people buy wax melts it's because they want their home to feel special. They want a loverly strong scent without it being overpowering, they want that scent to be clean (as in not pollute the air in your home - particularly if you have children or pets) and most people seek exceptional value for money.
We are proud to handcraft our wax melts using 100% organic coconut wax - not only is this a very clean and soft wax it's also a sustainable vegetable product. It melts at a low temperature and releases zero toxins into your home. It holds fragrance for a very long time too.
Our fragrances are unique and blended inhouse and due to our unique blending and pouring methods our wax lasts 4 x time longer than most other wax melts you can buy in shops or online. Just one cube provides 24 hours of scent MINIMUM!
Our wax melts (also known as wax tarts in some countries) are made by hand here at The Granary on a farm in the Cambridge countryside. Made in small batches to ensure perfection, each wax melt is cured for 2 weeks minimum before rotating into stock - this ensure the scent has matured and is strong as soon as you use them.
We make several types of wax melt:
1. Wax Melt Clamshells (these are pre-moulded cubes in a recylced plastic packet allowing you to break off one cube at a time and snap shut to seal and store). A standard clamshells provides over 144 hours of scent and is our most economical option - 2p per hour.
2. Wax Melt Hearts - these are individually moulded heart-shaped wax melts - they can be purchased as jars of 15 or foil refill packs - they are often purchased as small gifts or by wax melt lovers that like to display their wax melts in their home.
3. Wax Melt Samples - our samples are created using the same formula as all other wax melts -they simply come in single cubes in individual packets to allow you try out new scents with a very small purchase - if you love the scent you can buy any other product (such as candles, reed diffusers, room sprays and fragrance oils) with total confidence as the scent is the same when applied to all products.
Our wax melts are vegan friendly, cruelty free and made with 100% organic coconut wax.
Our wax melts are made with 100% organic coconut wax and vegan-friendly, cruelty-free fragrance oils only. No nasties, glitters or unnecessary chemicals or additives. This means they are as clean as it is possible for a wax melt to be and very unlikely to trigger a reaction in common household pets. While we use a blend of essential and fragrance oils we do avoid the essential oils known to irritate pets such as cinnamon, citrus, pennyroyal, peppermint, pine, sweet birch, tea tree (melaleuca), wintergreen, and ylang ylang. So many of our customers have pets (as we do) that that we use fragrance oils in place of essential oils in blends that include these scent notes. We cannot guarantee a pet won't react if they have very specific allergies - if you are unsure we advise consulting your veterinary practice before use. To date we have not had one reported case of an incident or reaction and 70% + of our customers have pets.
All of our wax melts are concentrated and provide very strong scent - a little goes a long way and lasts far longer than almost any alternative on the market. BUT - and we cannot stress this enough - everyone has a different scent profile and register. What does this mean? It is much like an individual's sensitivity to spice. What is mild to one person is strong to another. Plus - we each are drawn and more sensitivity to certain scent types ie. citrus top notes, heart floral, spice and woody notes or base notes (musks and ambers or vanilla). If you're at all unsure as to which scent to try we recommend trying out our wax melt samples which can be purchased individually or in a discounted selection box.
Candles and wax melts work very differently from a scent perspective! Candles use the wick and flame as a form of combustion - literally drawing the wax up the wick to be burned. This is why the wax gradually reduces. With wax melts the wax is gently heated and it is only the fragrance oil that is release into the air. The wax remains. You simply change the wax in your tealight wax burner or electric wax warmer once you notice the scent has faded - this is usually around 24 - 48 hours of burn time. This includes melting and resetting.
Once your wax melt scent has faded you simply warm up your burner for 30 seconds or so and then use a folded piece of kitchen paper to slide out the wax as a disc. As it's a vegetable based product and the fragrance has largely been evaporated it's completely safe to dispose of with your usual household waste.
Sometimes wax melts are made using with paraffin wax or heavy chemical compound fragrances or include metal glitters and more. Any or all of these elements can trigger headaches or migraines or irritate breathing conditions. Our wax melts DO NOT include any of these components and we have yet to hear of a customer that has any type of reaction. In fact we have a whole following of loyal customers that can ONLY use our products due to their clean formula. Something we take great pride in !