JOIN THE VIP CLUB
6 exclusive new scents every month, site-wide VIP discounts, exclusive products, free shipping and much more... GET 50% OFF YOUR FIRST BOX WITH CODE VIP50
MORE THAN JUST A SUBSCRIPTION BOX
Our VIP Club is a community of like minded people - all from different walks of life from around the UK but all with a love of making home feel special.
UNIQUE & EXCLUSIVE
MONTHLY SUBUSCRIPTION BOX
A uniquely themed box of wax melts delivered to your door each month
6 Exclusive Scents
Only Available to VIP members
Save £9.99 on the RRP
15% Discount on products

> SIGN ME UP
VIP MEMBER PERKS EXPLAINED
What our VIP Members say!
★★★★★

"Uno lusso has been my new addiction for almost a year now!Amazing productsand amazing quality and I love being part of the VIP club. Thank you for suchbeautiful products that match my decor perfectly X"


Michelle Savill-Brown
★★★★★

"It's not just a product.... it's a smell, a memory, the ability to make new friends you wouldn't have normally met, an outlet, a mood changer and a welcoming luxuriously scented home... to me when I'm ordering from Uno Lusso I'm creating all those things. The business is a family that has also welcomed its customers as family too, I couldn't and won't buy from anywhere else. We're all part of the Lusso Famiglia"

Corrina Curnow
★★★★★

"I found Uno Lusso during lockdown and so glad I did. A family runbusiness who put customer service at the forefront. We are a VIP family. Theproducts are incredible, elegant, organic and smell incredible. So glad I found Tara and Richard xxx"


Helen Price
★★★★★

"Uno Lusso is such an amazing business, not only is it family run butyou feel part of a community &family. Everyone is so lovely, welcoming andfriendly to everyone.What can I say about the scents - they're incredible, I'mcurrently burning an old scent which is discontinued but still smells greatHavana Nights. Since finding out about Uno Lusso I've binned all my other meltsas nothing truly compares to Uno Lusso xx"

Sophie Wright-Perry
We like to keep things simple
HOW IT WORKS
As soon as you sign up to VIP Wax Melt Club here's what you get:
Email twith your VIP DISCOUNT CODE
Invite to our VIP Facebook Group
Sign up before 12th of a month and you receive that month's box. Sign up after this date and it acts as pre-payment against the following month and you won't be charged again.
Payments collected 1st of each month
Boxes dispatched on the 12th of each month or next business day if this falls on a weekend or bank holiday
LIVE Events are scheduled inside our VIP Facebook Group
*Minimum 3 month subscription period. Cancellations must be received by 11th of the month. Cancellations on or after the 12th of a month will result in one final box and payment
> JOIN VIP CLUB NOW
PREVIOUS MONTHS THEMES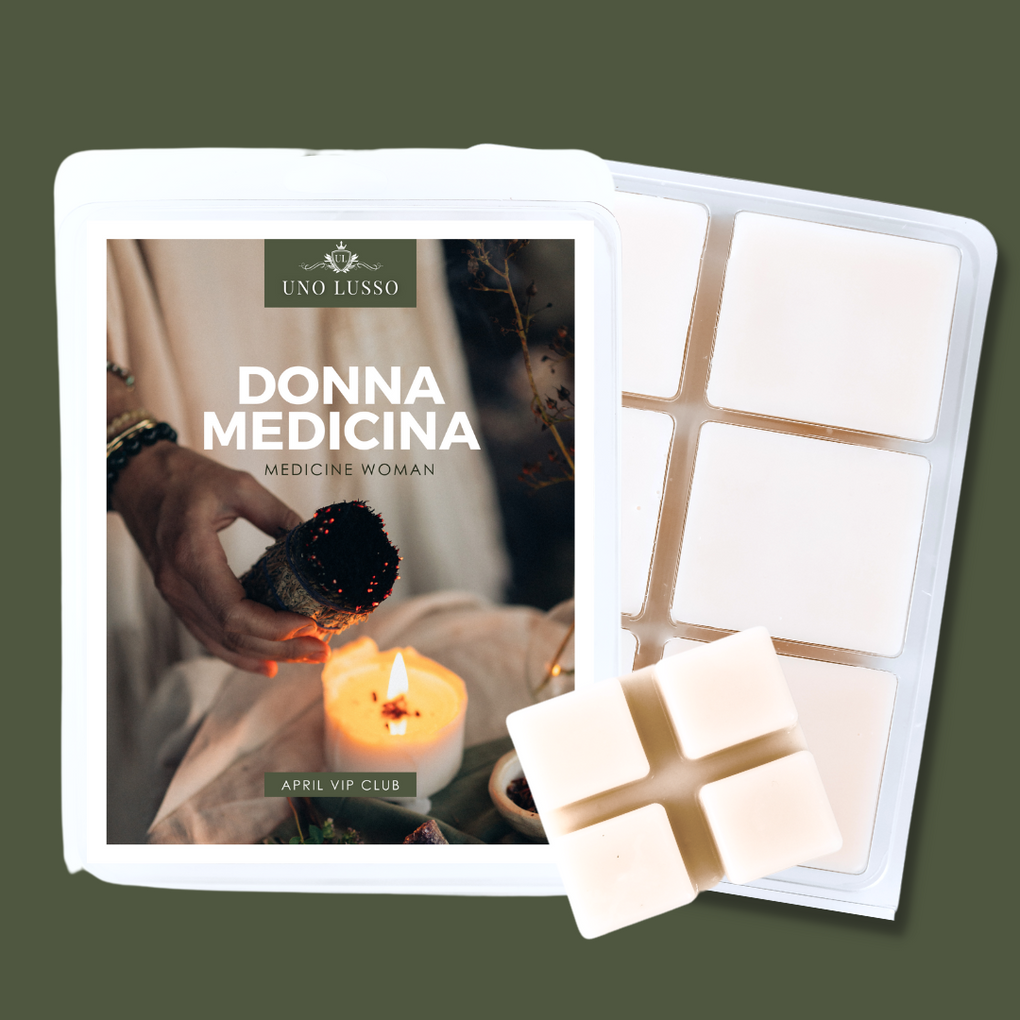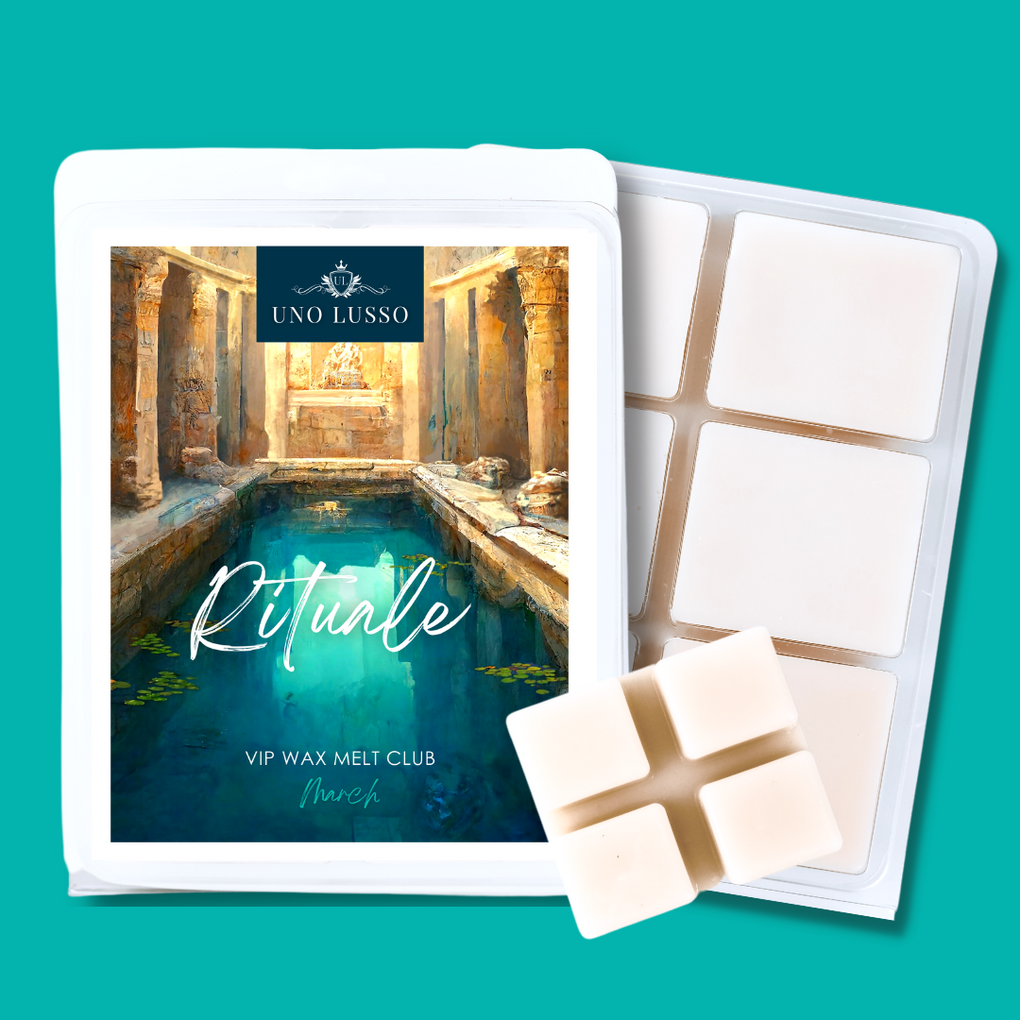 If you sign up on or before the 12th of the month you will receive your first box the same month - this is usually despatched around the 12th of the month on 48 hour delivery.
If you sign up after the 12th your space is reserved (only a limited number become available each month) and your first box will be despatched around the 12th of the next month but you won't be charged again that month.
When you first subscribe you will be sent a welcome email explaining your membership benefits and as long as you log in / create an account on our website with the same email you subscribed with your VIP discounts will be applied automatically.
Please check the correct discount has applied at checkout prior to making payment for an order - if you're having problems creating an account or getting your discount to apply please contact us on hello@unolusso.com where you will receive a priority response.

Each month you will receive a confirmation that your payment has been processed and that your box is in production.

Once your parcel is dispatched somewhere around the 12th of the month you will be sent a further email with your tracking code. This usually takes around 48 hours to arrive but can vary in some locations.
We are only able to offer such a significant savings on a unique theme each month by having a fixed number of products we can make together at once in advance. This decreases our purchasing and production costs which we pass on to you.
We also only offer discounts across our entire product range to VIP Members as we like to have a close personal relationship with our customers - they get better use of our products and we know this increases loyalty and our ability to grow.


The fun of a subscription box is not knowing what is coming - its a little like getting a gift each month! What is unique to our VIP Wax Melt Club is that all scents are totally new and unique to the club each month - they are not available to purchase anywhere else.
Rest assured we prepare our ideas and test our fragrances months in advance - we don't release a theme unless we are totally in love with it ourselves - every wax melt in a subscription box is made to the same standard as our collection wax melts. Beautiful premium fragrance oils, our unique soy wax blend, precision craftmanship and all made here at the Candle Barn by us! No dirty factory, no cold warehouse distorting your wax, no dyes or glitters disguising the quality. Absolute luxury just at an affordable price. Check out our existing member Testimonials for proof of just how good this Club is.
Each month you can choose to just tear open your box and explore the scents in your own time OR you can join Tara and other Lusso Lovely VIPs online
During each LIVE - Tara will host a discovery session to talk you through each wax melt, the ideas behind the theme and individual scents as well the inspiration behind them. Previous events have been quite lovely social events - so grab a glass of something fizzy and join us as we discover these beautiful scents together! Each month when your box is dispatched you will be sent the details of how and when to join Tara an if you're not available the recording will be sent to you anyway to watch in your own time! All scheduled events or LIVE shopping shows are listed here
Yes of course! Simply purchase as normal but simply add the name and address of the person you are sending to - please also email us on hello@unolusso.com to let us know when you have gifted this to someone and we can add them to our FB group and mailing list for VIP announcements.
We really hope that you love the VIP Wax Melt Club so much that you stay subscribing however if at any point after the initial 3 month period you wish to cancel you can either do so by logging into your account on our website OR by contacting our customer service team on hello@unolusso.com.
If you cancel before the 12th of the Month there will be no further payments taken. If you cancel on or after the 12th of a month one final payment will be taken and one final box will be dispatched. This is because the products created are totally unique to the Club and cannot be sold on our store. They are made 3-4 weeks in advance of dispatch or more to allow the product to cure.