We're so confident you'll love our wax melts that we'll send you a
FREE sample pack
12 handcrafted luxury soy wax melts

The risk free way to try all twelve scents from our
Signature Collection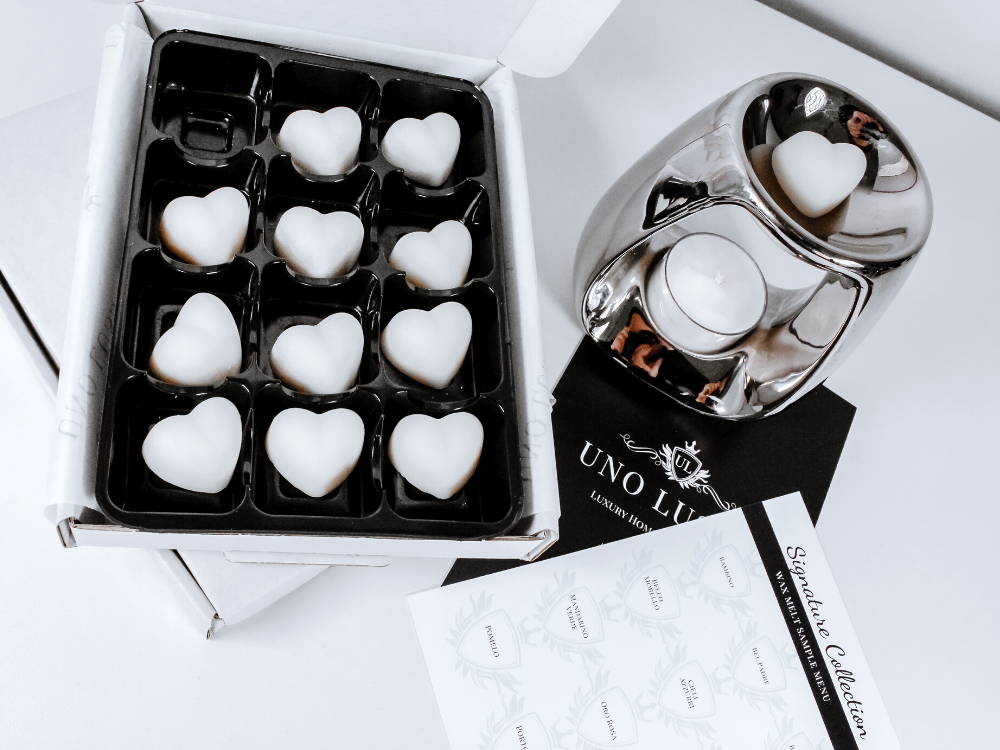 Unique scents to enhance the beauty of your home
Our signature collection is home to twelve unique scents and over 300 products - our free wax melt sample pack allows you to "sniff test", find your favourite scents and place an order with total confidence
Scents included in your sample pack
Bambino
A smooth silky powdery blend of rosewood, bergamot, jasmine, ylang ylang, lavender and roman chamomile
Inspired by baby soft, sweet fragrant just bathed skin and fresh fluffy white towels
Bel Padre
A warm vanilla fragrance with the added spiciness of tonka beans balanced by the sweetness of cacao and the smoky aromatic florals of tobacco blossom
Inspired by aromatic forest walks and cashmere hugs with Papa
Bellissimo
An elegant clean and fresh scent of soft white rose, jasmine, vetiver and oak moss
Inspired fresh white egyptian cotton sheets and fresh white flowers
Bello Morello
Ripe rich black cherries underpinned by deeper notes of rum and cinnamon
Inspired by the lusyh cherry orchards of Modena and Amaro liqueur
Cieli Azzurri
An rich velvety fusion of jasmine and honeysuckle with sweet orchard blossoms underpinned by the fresh perfume of cedarwood.
Inspired by linens drying in the breezy sea air under a Tuscan blue sky
Frangipane
Sweet almond, a little warm vanilla and a touch of morello cherry for a wonderfully good enough to eat aroma
Inspired by the mouth watering comforting scent of almond cake baking in Nonna's kitchen
Mandarino Verde
Sweet oranges, fresh zesty Sicilian limes and peppery basil leaves
Inspired by the aromatic citrus groves of southern Italy
Oro Rosa
Ancient dusky rose and smoky sensual oudh
Inspired by the ancient rose rituals of Rome
Pomelo
Sparkling Prosecco, sweet grapefruit, Sicilian orange and pink pomelo dance on a base of jasmine and musk
Inspired by the glamour of cocktail hour
Portofino
Dusky bergamot, bright orange, warm amber, cracked coconut, creamy almond and sweet vanilla
Inspired by the glamour of luxury beach life and the bliss of sand between your toes
Ravello
Vetiver, sandalwood, orris and musk for a clean musky woodsy perfume
Inspired by aromatic hilltops of Ravello overlooking the Amalfi coast
WHY DO WE GIVE AWAY FREE SAMPLES?
- 1 -
FIND YOUR FAVES

We know it's hard to know which scents to choose if you can't smell them yourself - so we want you to have the confidence to try our products and find your faves before spending
- 2 -
ORDER IN CONFIDENCE

We strive constantly to produce amazing quality products - we're so confident that you'll love at least a couple of the scents that we know giving away free product will be worthwhile
- 3 -
IT FEELS GOOD!


It feels just as good to send out a freebie as it does to receive one! We love how excited everyone gets when their samples arrive and finding out which scents you love the most!
How to use our FREE samples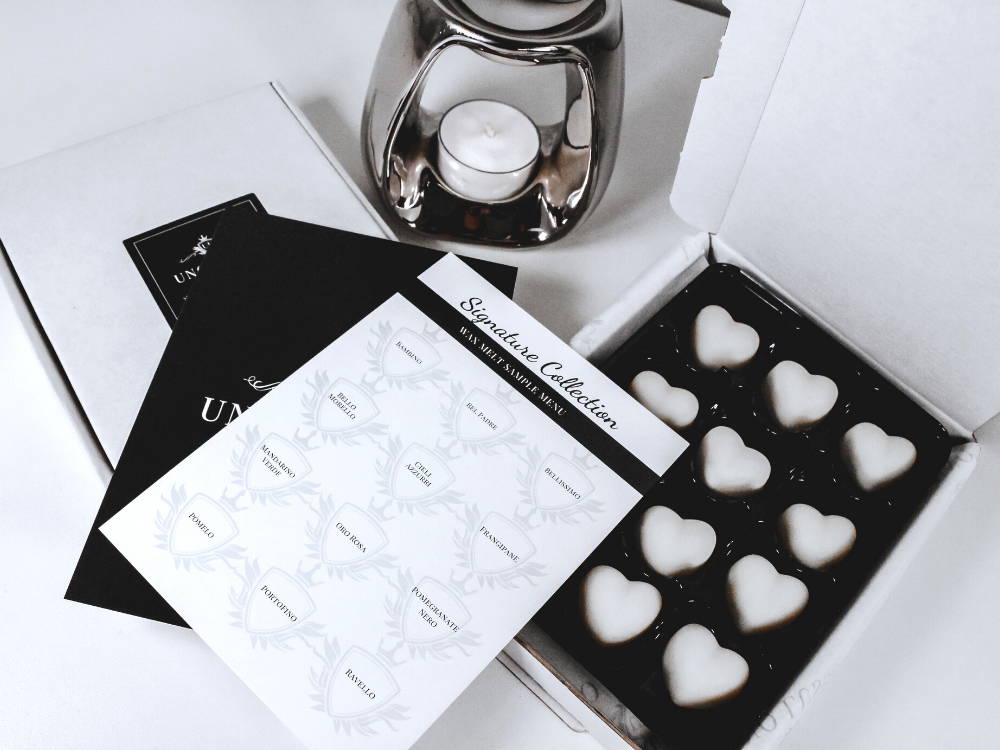 Please bear in mind this is a sample box. Usually we would advise using 2-3 hearts at a time - in this box you'll receive one heart in each of the 12 scents in our signature collection.


You won't achieve the same volume of scent that you would with a recommend portion of wax...BUT...You will be able to test to know whether you like each scent...AND...If you like the sample size then you'll really love a full size portion of wax

HOW TO USE
Use one heart at a time

Use a tealight wax burner and a 4 hour tealight only

Smell the wax melt before burning and then place in the well of your wax burner and light the tealight

Sit back and allow the aroma to develop as the wax melts

You can expect up to 24 hours of fragrance from each melt

Once the scent has faded you can remove the wax and try another wax melt


Tip
When testing / smelling the melts your nose can become overloaded with all the scents

Try sniffing coffee beans / granules or the back of your hand between each melt to "reset" your sense of smell
- 1 -
FREE SAMPLES

Add your free sample pack to your cart
Samples are FREE you just pay the postage to send them to you on 48 hour tracked service £3.99
- 2 -
48HR DISPATCH

Within 48 hours we will post your item on 48 hour delivery which is tracked - as soon as it leaves you'll be sent a tracking link
- 3 -
DISCOUNT ON FIRST ORDER

When your sample pack arrives you will be sent a discount code to use on your first order within 7 days of receiving your sample pack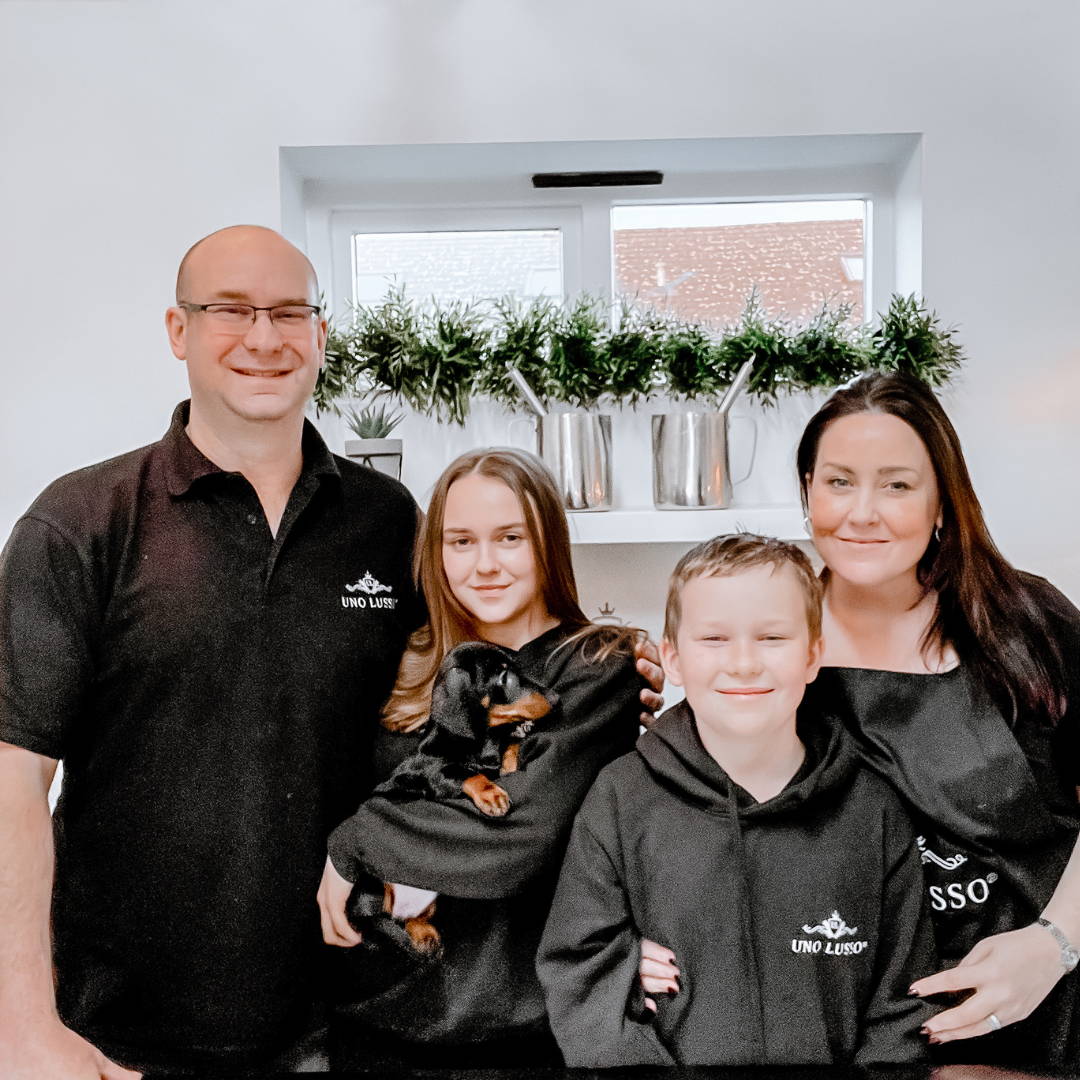 "
To enhance the natural beauty of your home with beautiful unique fragrance 
We believe every family and home is unique and beautiful and deserving of the elegant finishing touch of a beautiful fragrance.

We are totally against poor quality products that damage health as well as horribly overpriced products that you begrudge using.

Candles, wax melts and all other Uno Lusso home fragrance products are made to feel luxurious but not break the bank because candles and wax melts are for using now not saving for "best"...

After all, you are the special guest and coming home should be the special occasion

We are put real love into every product we handcraft with the aim of creating a feeling of luxury, high quality, excellent performance but great value

Try us out and tell us what you think

From our family to yours

Happy melting x